1st Pattern and Sample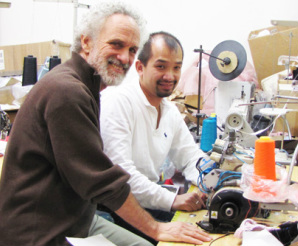 After working with hundreds of inexperienced entrepreneurs, we have developed a process that allows for the quickest, easiest, cost effective and most reliable way to take you from idea to completed product.
This package includes two generations of a pattern and sample, with you ending up with a production pattern in one size, face card, tech pack and your final sample. Plus sourcing all the needed materials
How it Works:
You buy a garment/product off the rack of what you want produced with the fit you want. It is important to note that the fit of this garment will be the base of your pattern.

Send the fit sample to us with clear instructions of how you want this garment altered or modified to be the garment you want to call yours.

We will call you and give you an estimated cost of production based on a 100-200 unit minimum, depending on the garment.

We make a first pattern and then first sample to match.

We assist you in sourcing all the needed materials, though we do not actually purchase any of them.

We send the sample to you and you tell us what adjustments, if any, you want made.

We then make these changes to the pattern make a new sample, if necessary, and send them back to you.

You OK it.

You now have your production pattern, face card/tech pack and sample.

In the case you need more changes, which is rare, we will quote you a price before we go further.
This services ranges from $1,000 to $1,600, depending on the garment.
Besides the Production Pattern & Sample, Face card, you will also receive our extensive Resource Guide with our personal assistance in sourcing all materials and our 40 page
Garment Industry Primer
.
In some rare cases with a very complex garment, the cost could be more. In such cases we'll always quote a price first. In the case you just have an idea but have never actually seen anything like it in the stores, we will work with you in developing your idea into a product. We will quote a price once we have talked.
We highly recommend that you start with one garment, but in some cases, as with swimwear or workout wear you need to develop 2 or 3 to start. We have an alternative pricing program. Ask us.
Materials
LJO Sew only provides a service. We do not provide materials. You must provide all fabrics, trims, labels, and notions. If you don't already have your materials sourced, we will work with you and recommend resources with vendors we trust who will work with you as a beginner.
or those of you who are interested in more details
of how we work, read on:
The cutting and sewing of an article, the making, are the last steps of the manufacturing cycle. After working with hundreds of "newbies" we have developed a process that allows for the quickest, easiest and most reliable way to take you from idea to completed product.
Here is an outline of how we work.
We do not expect you, our client, to be pattern makers, illustrators or designers. You are a marketer, an entrepreneur who just so happens to have a product you want to sell that needs to be sewn.
The most important aspect of your garment is its fit.
So we build upon a garment you provide us, we call the "fit sample". This is a garment you purchase off the rack or one out of your closet. A garment that you know has the fit that you like. This becomes the basis of your garment.
Along with your "fit sample" you provide other garments that have details you want on yours. Or simple drawings with measurements. Or post-it notes. Or magic marker. Or pins. Or needles. Or whatever it takes to communicate to us how you want that fit altered or modified to be the garment you want to produce.
This is when our magic takes over. Bippity, boppity, boo. We will do.
When we receive you item, Laury will phone you and give you an estimated cost of production as a per unit cost. This is for cut/sew/thread. Not materials. We can help you estimate that also. This is based on a minimum of 100 garments divided by 4 sizes and 2 colors. Each additional color is 50 units. You will have a good idea what's in store before you decide to proceed.
If you do want us to proceed, then the cost is $1600 (generally) to take all of your instructions, you will also talk with our pattern making team to go over what you want before we start, and we'll make a first production pattern, then sample.
All design or pattern work outside the package cost, is billed at $75/hr. But we will do nothing without first getting your consent.
While we are doing this we are assisting you in sourcing all the materials you'll need for production: fabric, labels, notions, etc. We will give you our Resource Guide, a vast array of suppliers that you will then contact directly. We will be there with you at each step. You will need to supply us first with sample yardage to make your sample and then have all materials for production dropped shipped to our sewing facility. But Laury will go over all this with you.
Something to understand: Where our production minimums are small, 100 units, you the "newbie", are at a greater disadvantage when it comes to fabric. You will be dependent on vendors who have stock programs of fabric. To custom weave or dye fabrics the minimums are generally 1,000 yards per color. Far beyond what is reasonable for you. Though you will have many vendors with large stock programs available, you will be limited by what they have.
A slight digression: When you go offshore for production, the companies offer you a completed product. They have vertical supply chain integration. That is not usually the case here in the US where after the collapse of the garment industry, starting about twenty years ago, it all became very splintered. But if you have problems with that company, or want to go somewhere else, you're stuck. You do not own your patterns, you do not know you sourcing, you are back to square one. With us, at each step of the way, you own all the work we do as we educate and empower you with the knowledge and sourcing to grow and prosper, with or without us (hopefully with:)).
We make a first production pattern, then a first production sample with the materials you provide. We send this sample to you and you do whatever you do to it and then return it to us with clear instructions for any adjustments that it needs. We will then, if need be, adjust the pattern and make a second production sample for you.
Generally at this point you have your garment in one size ready for production.
You also have a Face card (a drawing and basic production info) and Tech Pack (detailed instructions so any contractor can make your garment). And your sourcing done. You are ready.
If you need further product development we discuss this and you are charged at a per hour pattern work rate and for the additional samples. This is all agreed upon before any more work is initiated.
This brings you to the end of this 1st Sample module.
The time for this is generally 2 months. What, with sending the sample back and forth. Usually any hold up comes from the client sourcing the materials.
The next step is grading the pattern (no, we don't have it take a test). This is making all the sizes. The pattern is digitized and then graded. This is generally $30-$40 per size, a one time charge, that depends on how many pieces in the pattern set.
You own your graded pattern set not us. If you call and say you have decided to do your production in Bangladesh, no problem, your pattern is in digital form, we send it. And we warn you to stay off the third floor of their factory (kind of a joke).
Hopefully you'll want us to do your production.
To begin production we make a marker for you. Nothing to do with gambling. It's a print out template, like a big blueprint, of all the pieces in your pattern in the ratio of your cut, packed as tightly together as possible at the cutable width of your fabric, like a jigsaw puzzle. This is placed over your stack of fabric to cut out all the pieces of your pattern. You will need to have a new marker made for each production run, as it is destroyed in the process of cutting out your pieces. This is priced by the foot and generally ranges from $80-$100.
You order in all the materials. Have them dropped shipped to our factory. We make the garments. First production runs generally take 4-6 weeks. Follow up production 3-5 weeks. We ship them to you. Then you get to work selling.
WHEW!
The vast majority of our clients go through this process. But we will meet you wherever you are to provide you with the service to get your product into production.
---